Press Smart: with the new Viega Pressgun 6 Generation
The Viega Pressguns set completely new standards for the industry. Not only do they make press connecting technology even less time-consuming and more attractive, they also improve ease of use considerably with their compact dimensions, reduced weight, improved handling and new batteries with a noticeably longer life. No matter which new Viega Pressgun you choose, each one is perfectly tailored to its intended purpose and offers state-of-the-art, highly reliable technology.
The Pressgun battery lasts much longer than its predecessors. So far more pressings are possible!
Bernd Haaß (Technical Director), Haaß GmbH & Co. KG
Improved ergonomic shape
Easier handling for fatigue-free pressing: All new generation models have an impressively light and compact design. The Picco 6 Plus in particular acts like a natural extension of your arm.
Informative LED display
The LED display shows you the operating status of your smart Pressgun by colour. You can see, at all times, whether your smart Pressgun is ready for operation and connected to the mobile app via Bluetooth. The battery charge level is also displayed.
Work safely
A host of useful features make it safe to work with your Pressgun 6 Plus or Pressgun Picco 6 Plus - including the improved LED light and also the electronic retaining bolt monitoring function that relegates false pressings to the past.
Reduced maintenance
The display prompts you automatically when your Pressgun has exceeded the predefined number of pressings. If the product is not serviced within the next 2,000 pressings, it will be disabled automatically.
More control
With the new, smart Pressgun generation, you always have the tool costs and the level of use in view. Even if you are not present on site. Via our app, you can automatically lock the Pressgun as soon as a counter reading, a time or a defined number of pressings without an online connection is reached.
Improved battery performance
Thanks to an improved battery system, up to 25% more pressings can be achieved with the 6th generation tools. A significant difference that you will notice every single day.
The Pressgun 6 Plus from Viega sits nicely in the hand. Thanks to its slimmer head, I can reach the pressing locations much more quickly and easily.
Patrick Peters (New Build Technician), Haaß GmbH & Co. KG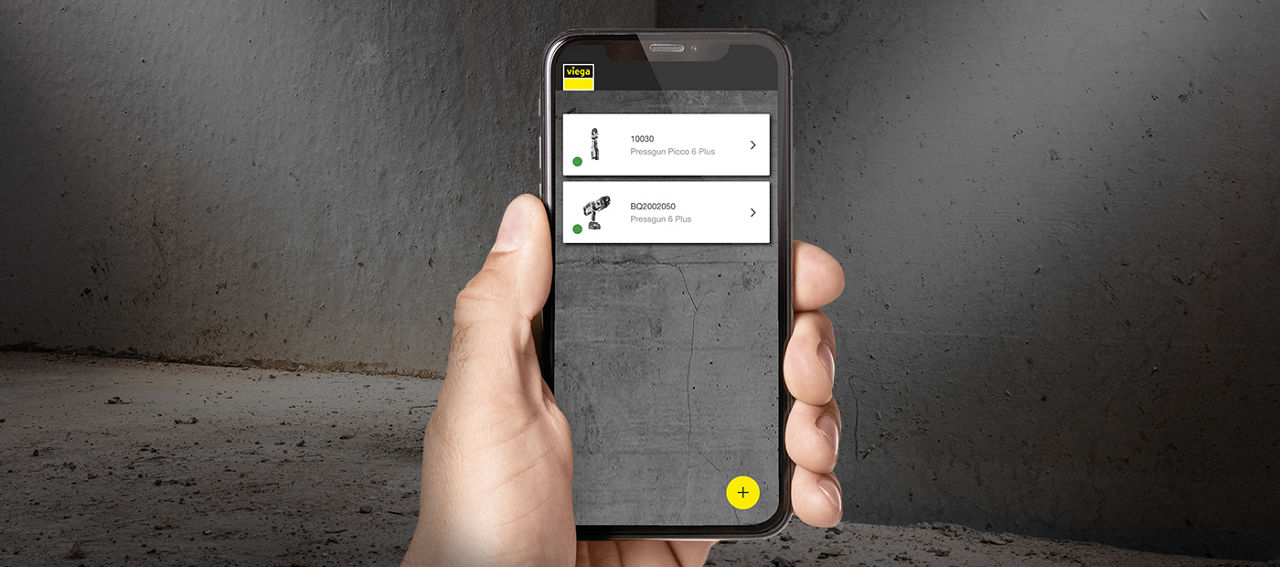 Manage and control your Pressgun via app
The practical Viega Tool Services Lite app is available for the Pressgun 6 Plus as well as the Pressgun Picco 6 Plus, which allows you to adjust the driving mode of the tool and make further settings. You can find the free app in the Apple App Store as well as in the Google Play Store and, after a short registration, you can start directly with the maintenance of your Pressguns.
Our further Pressguns: powerful, effective, reliable
Still unsure? You can find more relevant information here: