Health is a person's most valuable asset. Correspondingly high are the requirements relating to the construction and operation of hospitals, care homes and other health care facilities, so that they can provide optimum healing and nursing services. A central challenge is the maintenance of recognised high hygiene and safety standards. In addition to the medical services, this mostly applies to the maintenance of the drinking water quality and the constructive fire protection.
Viega offers investors and operators system solutions for these and many other areas of technical building services, which are optimally matched to the specific requirements of hospitals or retirement and nursing homes.
The Viega system solutions do not compromise with regard to safety and quality, but increase comfort for patients and staff while also improving energy efficiency:
Viega Healthcare ensures healthy economics!
 
Selected healthcare-references
Germs in the drinking water
Viega Healthcare. Combining drinking water and hygiene with healthy economics.
Drinking water is essential for preserving life. Therefore, it has to be absolutely protected against contamination with dirt or germs. This is particularly important for people with a weakened immune system. The World Health Organization has therefore issued directives for the protection of drinking water. Meanwhile, these directives have become law almost universally by being implemented in international and national laws and regulations. Operators of drinking water systems in hospitals, care homes, etc. have special responsibilities in this area.
When planning and installing Viega drinking water systems, they are provided with substantial support. Over many years, these coordinated system solutions have been tried and tested in practical applications and have proved to actively and passively support the preservation of the drinking water quality.
Drinking water in hospitals, clinics, care homes, rehabilitation centres and comparable facilities is at risk for example because of
• interruption of use in temporarily empty patient rooms,
• stagnant water in pipes to rarely used taps,
• lack of water dynamics and temperature maintenance in drinking water systems that were constructed dimensionally too large, or
• return of germ-contaminated water into the drinking water system.
These risks not only threaten the health of the patients but usually also lead to higher operating costs. However, in this context, the greatest damage to a health care facility is caused by image loss when patients actually fall sick in a hospital or nursing home on account of germs in the drinking water.
The two most common causes of such illnesses are:
• an excessively high concentration of legionella pneumophila, usually in hot water, or
• an excessively high concentration of pseudomonas aeruginosa, mostly in cold water.
Legionella can become dangerous for humans if they are inhaled via water spray, for example when showering. The germs cause Pontiac fever or legionnaires' disease. This is a type of pneumonia with risk of mortality, which doctors estimate to be between 10 and 15 percent.
Pseudomonads, in contrast, usually reach the inside of the body through tiny skin injuries. There they can cause severe skin inflammations, which show a high resistance to antibiotics.
The Viega Hygiene+ concept for the maintenance of the drinking water quality helps to drastically reduce these risks. 
Patient Safety & Comfort
Science has long demonstrated, how important "wellbeing" is for the healing process. Viega's solutions for the health sector reflect this concept and, at the same time, improve the profitability of the operation of a healthcare facility.
This is most vividly demonstrated by the following two practical examples:
• Radiant heating and cooling is a comfortable and particularly energy-efficient solution to achieve a pleasant room temperature. Furthermore, in patient rooms and operating theatres, this type of heat distribution prevents germs and dust from being whirled up.
• Automatically or touch-free activated toilet flushing and hygienic floor drainage for wheelchair-accessible showers increase the comfort of sanitary installations for patients with disabilities. At the same time, such installation solutions reduce the risk of germ transfer and lower the effort required for cleaning.
Radiant heating and cooling systems can be integrated in floors, walls and ceilings. This means that annoying radiators are no longer required. This gives architects more freedom in the design of rooms. Furthermore, the risk of injury is lowered both for patients and the nursing staff.
The same radiant heating and cooling system can be used for heating or passively cooling rooms. This is a major contribution to well-being in the patients' rooms and in the "workplace operating theatre" and, at the same time, it is a significant contribution to an improved energy efficiency of the building. An important aspect of radiant heating and cooling systems is the heat transfer in the form of radiation. This prevents the dangerous stirring up of dust and germs by air convection, such as it is observed with radiators. This hygiene benefit equally applies when the system is reversed and operated in the cooling mode.
Viega also combines design, comfort, hygiene and economy in its front-wall installation systems. They not only enable an easier room design and ensure an economical, noise-decoupled installation of pipeline systems, but with a large number of tried-and-tested accessory elements they also support the room functionality itself:
People suffering with dementia, for example, often forget to flush the toilet. On the other hand, people whose mobility is compromised, might no longer be able to activate the flush. The consequences for hygiene are serious, as is also the effort required for cleaning. Viega offers tailor-made solutions for this problem, such as automatically activating flush plates.
The hygienic draining of showers in bathtubs or via floor drains for the wet cleaning of rooms completes this product range.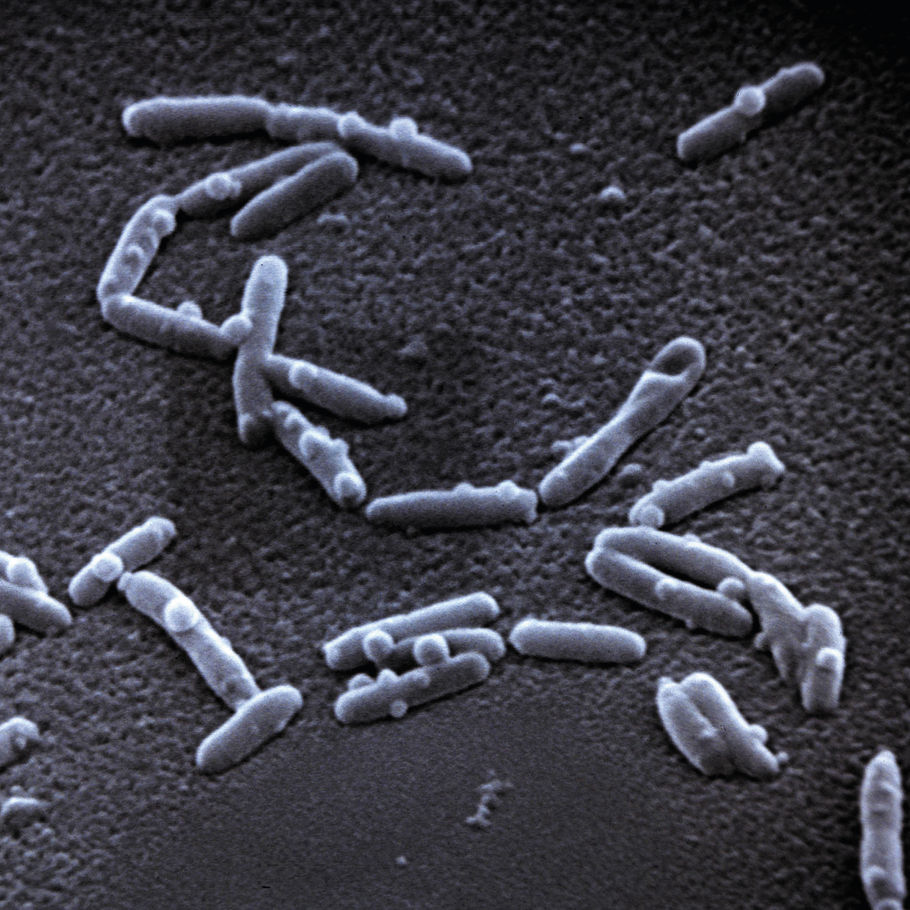 Image: Waterborne bacterial can have devastating consequences, especially in hospitals. To aviod that Viega offers responsible product solutions that guarantee pathogen control. 
Life cycle costs
From the planning to the operational stages, health service facilities are not only subject to medical but also to considerable economic constraints. For this reason, investors, architects and operators consider such projects holistically. Life cycle costs and sustainability are important criteria.
Viega views the world of installation technology from exactly this perspective. Well-founded consultation, reliable planning tools, simple installation technology, short-term and long-term availability, lasting product quality, timeless design and future-oriented solutions result in low life cycle costs and high profitability. Take a brief journey through Viega Healthcare's expertise.
 
Maintenance of the drinking water quality
Healthy drinking water is the result of sophisticated installation planning, competent installation and the proper operation of drinking water systems.
Viega offers expertise and product solutions in all these areas. Here is a small section:
• Personal consultations on-site and in seminars at 15 sites around the world will keep you abreast with the latest state of technology and science. Software and products for the planning and installation of simple drinking water systems protect the drinking water quality. The reason for this is that hydraulically simple networks support the regular exchange of water and reduce the construction costs.
• Varied, tested materials suitable for use with drinking water are available for every water type, from gunmetal, copper, stainless steel, galvanised steel to polymer materials. The Viega pipeline systems Sanpress Inox and Raxinox allow the drinking water installation from the house connection to the tap to be carried out rapidly and economically and even entirely in stainless steel.
• Viega pipeline systems are press-mounted. This connecting technology is extremely safe against leaking and faster than most alternative installation methods. Another advantage is that no dirt enters into the drinking water system during installation.
• Automatic flushing systems ensure the proper operation, i.e. the regular water exchange in the pipelines in the event of interruptions of use.
• Assistance systems send reports if any of the limiting values for the water temperature or the dwell times have been exceeded. Operators can take measures before the drinking water hygiene has been compromised. 
Constructive fire protection.
Preventive fire protection measures are indispensable for the safety of people and buildings. Accordingly, the complexity of the regulations for the structural and technical fire protection is continuously increasing. This often leads to discussions during fire protection approval testing. However, the tested fire protection solutions from Viega simplify the installation, increase the probability of successful fire protection approval and reduce the construction costs. Here some examples:
• All Viega piping systems allow installation at zero distance; this also applies to many unrelated systems such as exhaust air and sewage pipes. This saves installation space and provides more usable space.
• The fire protection solutions from Viega have been tested. The corresponding certifications simplify fire protection approval testing.
• The tested solutions from Viega often allow to the replacement of expensive fire protection with less expensive ones. This applies, for example, to insulation protecting pipelines against fire. Or to pipe penetrations through fire protection walls and fire protection ceilings that prevent the passage of fire and smoke. 
Design & Comfort
In people's homes, the bathroom has for a long time no longer been regarded as a simple wet room and has turned into an oasis of well-being. In hospitals and care homes, sanitary equipment of a high-quality design restores for the patients, at least partially, this familiar feeling of well-being.
Viega offers a wide product range supporting the economical implementation of architects' creativity. The practical benefits for patients with a limited mobility and for the care staff do not really require justification. Viega has already won more than 100 design prices.
Here are some examples:
• A height-adjustable toilet element. It supports the mobilisation of patients. The height adjustment does not require electricity.
• The Advantix Vario wall drain for wheelchair-accessible showers. The entire floor can be walked upon without barriers and the drainage leads inconspicuously into the wall and is easy to clean.
• Contactless toilet flush plates. In hospitals, most germs are transmitted via hand contact. Toilets, which are flushed without the need for contact, are in particular an important contribution to hygiene in this situation.
• The Smart Control single room regulation for radiant heating/cooling. The room thermostats offer good design; their control technology improves the energy efficiency. The energy savings reach up to 20 percent. 
Sustainability
In many interpretations, human health is the epitome of the word "sustainability". Buildings which serve the maintenance of health are obviously a part of this. For investors, architects and operators of hospitals and other facilities, this includes the long-term usability of an object at the lowest possible operating costs.
This includes, for example, also the thrifty use of the resources water and energy. Viega Healthcare makes this possible over the entire life cycle of a health facility:
 • The planning aiming to meet the requirements of drinking water and heating installations saves both construction and running costs.
• The short-term and long-term availability of over 17,000 products helps to meet tight construction schedules. At the same time, it is ensured that, even after many years, all parts will still be available for maintenance work or the extension of installations.
• The maintenance of the drinking water quality protects the health of patients and water as a resource. Operators of health facilities are protected from costly interruptions of operation, which are nearly always the consequence if the drinking water quality has given reason for complaints.
• Heating or cooling rooms via their floors and/or walls makes the utilisation of renewable energy sources more efficient, by working, for example, in combination with heat pumps.
• Innovative control technology and open interfaces for the integration of the Viega systems into the building automation saves costs during maintenance, repairs and adaptation to changing operating conditions. 
Health facilities also have to be profitable. However, their long service life and the changes, over time, in the legal requirements make prediction difficult. With its perfectly coordinated systems, Viega ensures reliable, safe and economical building services engineering. And it does this over the entire life cycle. This allows your capital to do its work at the right place, so that it benefits humanity.

The design of form and function for a hospital, care home, a health centre or similar building demands comprehensive specialist knowledge of the very specific conditions for its use. The same applies for the building services engineering. For this reason, Viega with its Healthcare programme is the perfect consultant and partner at your side.
Planning & Installation
The specialist buildings for the health care system are associated with particularly enormous time pressures and complexities. Viega will support you on site with its knowledgeable consultants. And we can do this in over 50 markets around the world. Time-efficient installation technology and system solutions that reliably pass the approval testing will contribute to the profitability of the work in your area. But hospitals and similar buildings are never really finished. Continuously, extensions and modifications become necessary. This is no problem if Viega products have been used. They remain available over the many decades a building is being used and compatible to the existing installations.
Facility Managers. You will be the operator's first contact partner when any issues arise with the building services engineering. If you work in hospitals or care facilities, this even applies around the clock and every day of the year. For this reason, reliable technology is essential for you. And when considering extensions, problem solutions which are both individual and intelligent are required. These are two reasons among many, why Viega is the right partner for you and will always provide the right products. Around the clock.