More than 15 years ago, Viega set a milestone in installation technology with Propress: the copper piping system was among the first to be pressed – not soldered – as standard. The use of press connectors with other materials such as stainless steel or plastic piping systems for water, heating, gas or compressed air has become "state of the art" in many countries.
Traditionally, copper pipes for building services were hard or soft soldered, depending on the application and medium. However, the press connecting technology developed by Viega through to system maturity some 20 years ago offers a more practical alternative.
Up to 50 percent faster processing rate and guaranteed safety
In many countries in Europe these piping systems are even approved for gas installations! The key pillar supporting this safety guarantee is the Smart Connect Feature, which only Viega press connectors provide. Even before pressing begins, water quite visibly emerges on charging the system with a pressure of 1.0 to 6.5 bar. In "dry" leakage testing, the pressure across the entire pressure range immediately drops from 3.0 bar to 22.0 mbar – meaning the unpressed connection can always be reworked in order to prevent damage in system operation.
Flexible and stable
The fast processing rate of the Viega press connectors is equally impressive. After just three processing steps – cutting the pipe to length; installing the press connector and verifying the insertion depth – pressing can be carried out all in one pass. No calibration, as in the case of other piping systems, is necessary. That saves as much as 30 to 50 percent labour, depending on the pipe dimensions, compared to soldering. As the connectors incorporating the Viega technology are always pressed in upstream and downstream of the leak with the sealing ring, the connectors at the same time exhibit high longitudinal force.
A single compact press tool
The pressing operations are executed with the matching press tools and jaws. As well as mains powered press tools, there are also battery powered tools which provide a high degree of flexibility. Their extremely compact design means they can also be used to work in difficult-to-access locations, such as in installation ducts. 180° swivelling jointed press jaw sets provide even greater flexibility where required.
Fire hazard eliminated
There is another reason why press connecting technology has had such success internationally: its enhanced processing safety, particularly compared to soldering. As pressing involves no open flame, and so poses no fire hazard, no fire safety measures are needed. Consequently, press-connected pipes can often even be installed in explosive industrial environments without interrupting production operations.
Such applications also benefit from the breadth of the Viega range which, alongside the Propress and Propress G copper systems and also includes coordinated piping systems in stainless steel (Sanpress and Sanpress Inox). This means piping installations for a wide variety of media can be executed by a single contractor, using one press tool and the press jaws.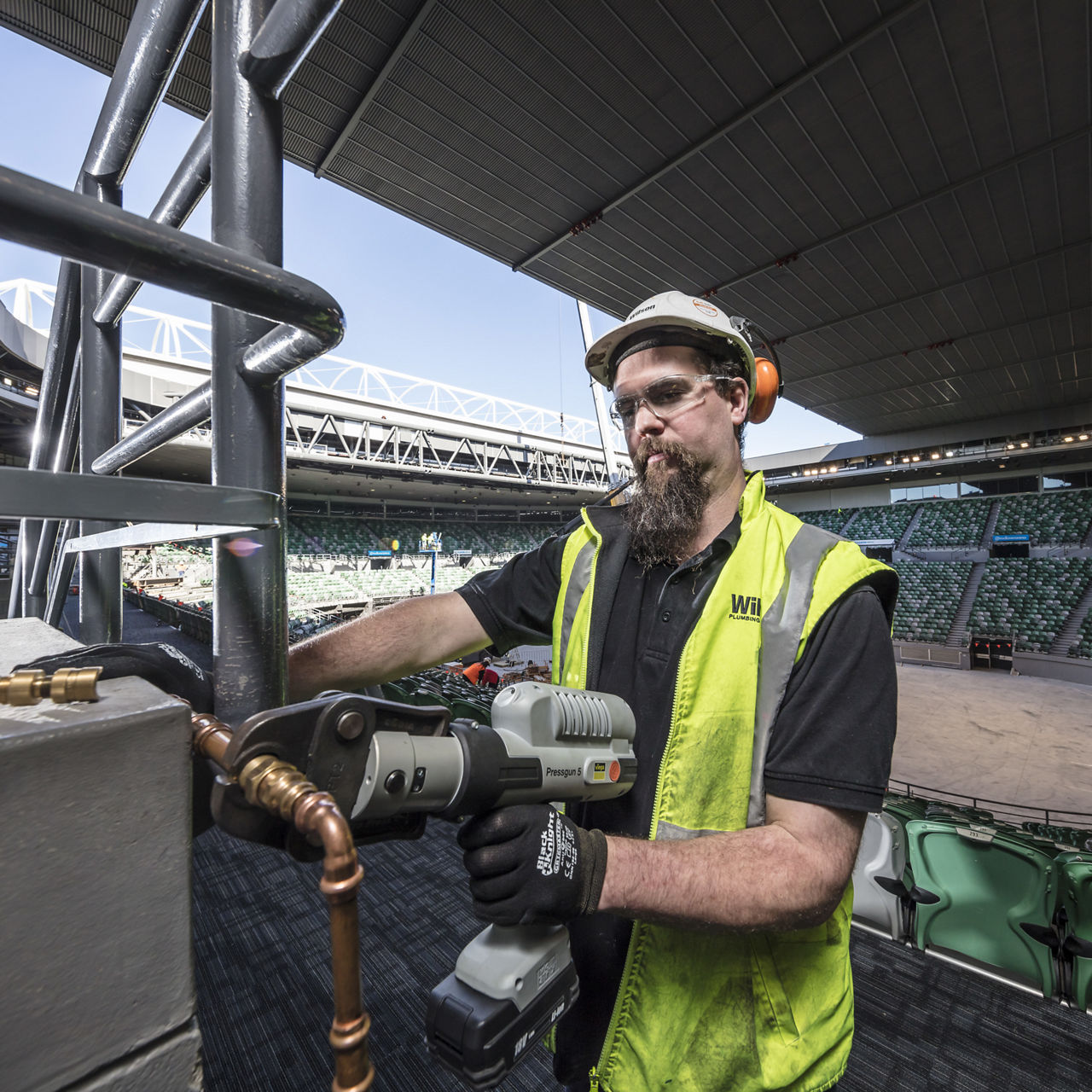 There is no need for costly and time consuming preliminary and follow-up operations such as drying the pipes or removing traces of fire and solder. And the system even enables difficult-to-access locations to be worked, without leaving any traces.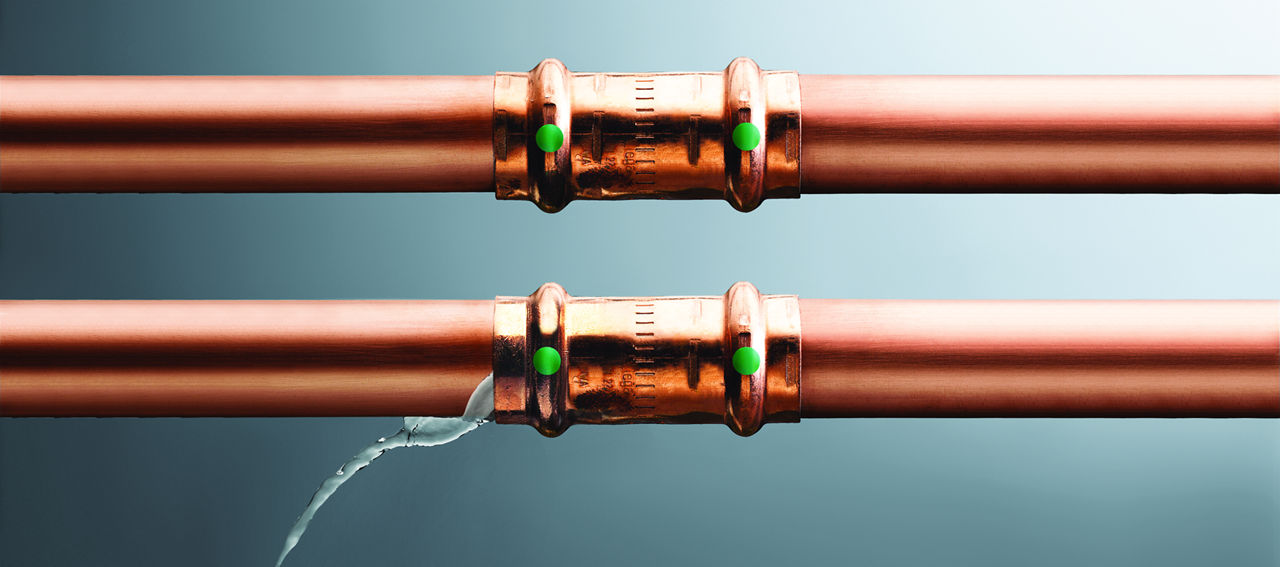 All Viega press connectors offer a unique safety feature: the Viega Smart Connect Feature. It ensures that unpressed connections are visibly indicated as leaky. It works both with compressed air and with water.
Pressing is faster than conventional soldering. It requires just three steps: After cutting the pipe to length, the press connector is installed and the insertion depth is verified. Then the press tool is put into operation – positioned, activated, done.
For more information also see the following download! 
The Viega Smart Connect Feature
Press connectors are both quicker and safer: processing requires less time, and the Smart Connect Feature from Viega shows up any forgotten pressings at the first filling of the unit or during a leakage test, for example, with water.
A clear advantage in terms of safety
Due to tight production tolerances, the pipe and connector appear to be "sealed" even before they have been pressed. Connections can be loosened by pressure surges whilst the unit is in operation; uncontrolled water can quickly cause a considerable amount of damage. Even at very low flowing pressure, water will leak out of the Smart Connect Feature, from a fitting that has not been pressed properly. This prevents expensive subsequent damage
Simpler repairs
The practical processing advantages of press connection technology are equally important, both in new installations as well as in any repair work being carried out on existing systems. Depending on the nominal width, a press connection is completed up to 40% faster than a soldered connection. Another reason is that in addition to the faster pressing process, press connection technology does not have all the time-consuming peripheral jobs such as deburring and calibrating.
When repairing drinking water systems, systems do not need to be fully drained beforehand. Whereas residue dampness makes soldering or nearly welding impossible, pressing is possible even when there is still residual water in the system.
For copper, steel and stable composite pipes
Viega offers the quick and safe press connection technology for all piping systems in all common areas of use. Metallic piping systems like Propress (copper) and Sanpress Inox (stainless steel) are all included as dimensionally stable composite pipe.
Depending on the material and area of use (e.g. drinking water, heating, gas, compressed air, fire extinguisher pipes), Viega offers suitable press connectors with the corresponding sealing elements. To prevent confusion of these press connectors, they have all been marked with coloured dots. For example, green points are exclusively for drinking water, yellow for gas installations and red for heating installations.