Whether thick or thin-walled, painted or galvanised, coated or black – steel pipes can be used in a wide range of applications, with long service lives and are particularly robust. So it is a good thing that Viega has come up with yet another genuinely innovative technology: Megapress S. This system means that steel pipes can now make economic sense in heating, cooling, fire protection or industrial plant applications.
The advantages of Megapress S
Megapress S XL for steel pipe sizes ½ inch to 4 inches
up to 80% less assembly time compared with welding (in respect of the connection technology)
FKM sealing element for operating temperatures to 140 °C
Viega Smart Connect Feature in all Megapress connectors, so that inadvertently unpressed connections show immediately in leakage tests
can be used for seamless, welded, black, galvanised, epoxy-resin-coated and industrially painted pipes according to DIN EN 10255 / DIN EN 10216-1 and DIN EN 10217-1
absolutely fire-safe, because neither flames nor fumes arise with cold press connecting technology
perfectly suited for use in industrial facilities such as cooling, heating, sprinkler or compressed air systems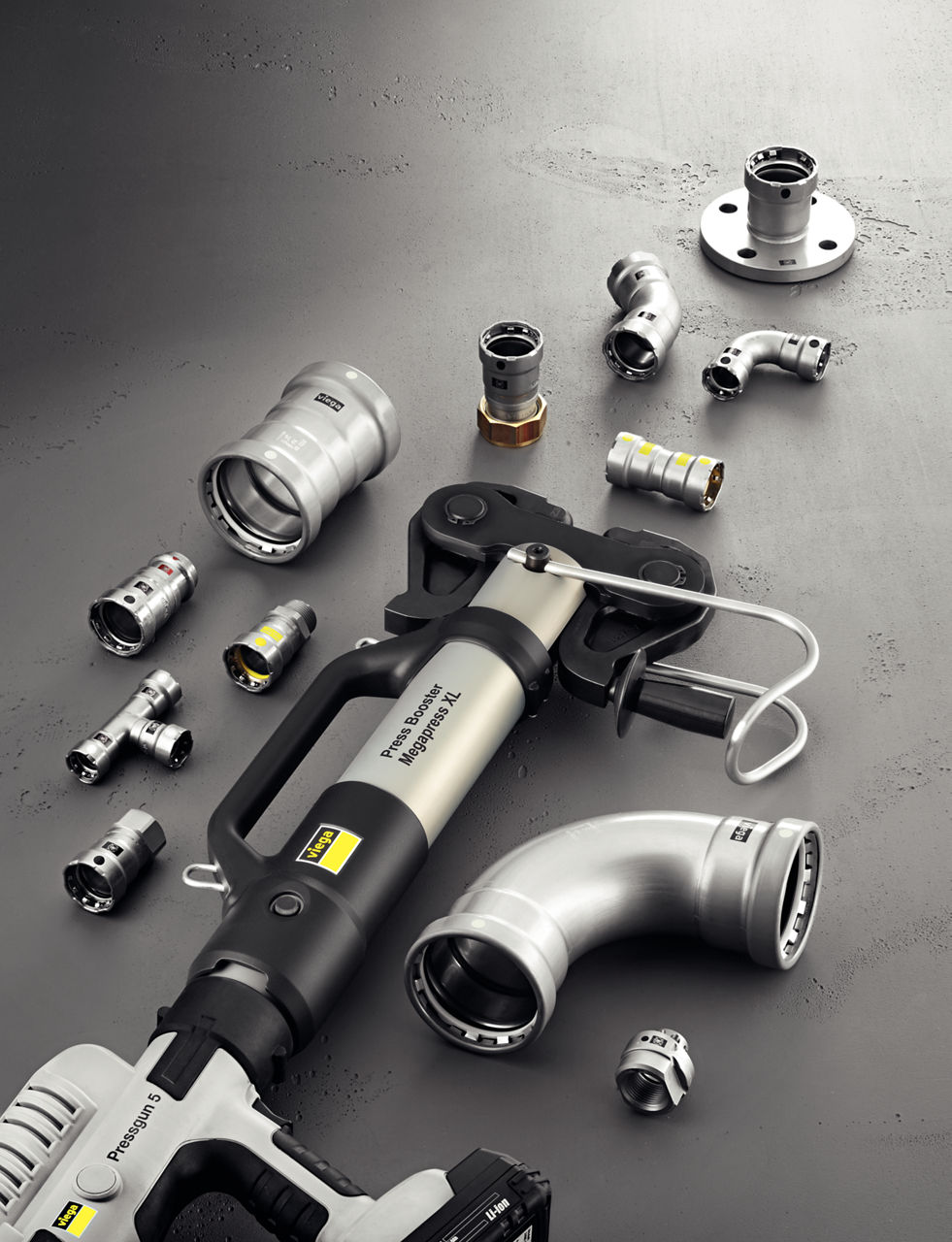 The advantages of the Pressgun Press Booster
innovative force amplifier for Megapress XL-sizes 2½, 3 and 4 inches with integrated hinged adapter jaw
optimally dosed pressing force for maximum safety
low weight and a handy carrying strap make for good ergonomics and easy handling
can be used for all Viega press machines from type 2 to Pressgun 5 (not compatible with Pressgun Picco)
special spherical heads on the hinged adapter jaw ensure that there can be no confusion with other Viega press rings
long service interval thanks to Viega's typical reliability and quality
Quick, clean, safe and completely weld-free.
Viega Megapress S XL
Viega Megapress & Press-In Branch Connector